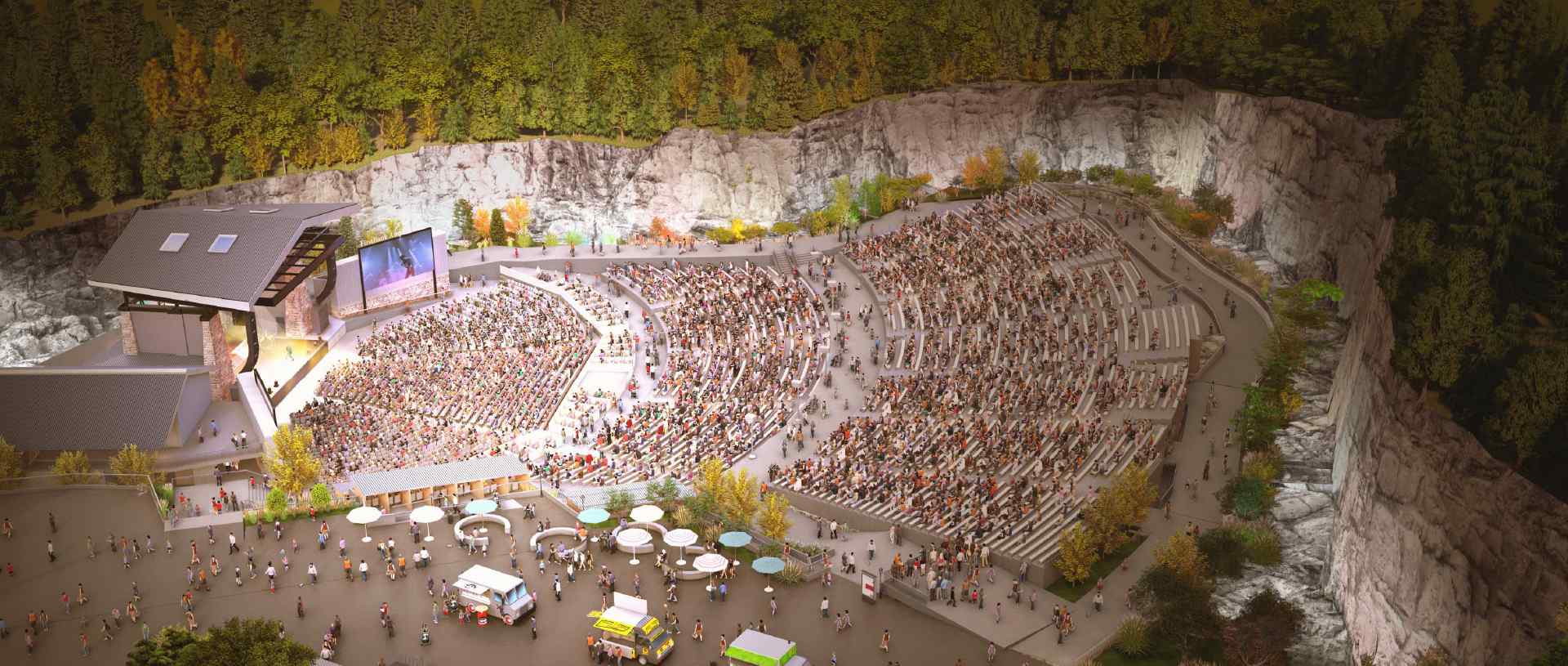 Opening in 2021
Introducing FirstBank Amphitheater, a world-class boutique amphitheater nestled within a beautiful, wooded, natural stone and park-like setting. Located at the Graystone Quarry in Thompson's Station at the southern border of Franklin, Tennessee, FirstBank Amphitheater is planned to open later this year for memorable music experiences whenever fans and artists can gather for concerts again.
2021 Premium Seat Sales
Season memberships are now available for the 2021 concert season. We are redefining what it means to be a VIP at your favorite concerts. Choose from many seating options including elevated cliffside suites, private boxes and premium club seats. Season memberships include exclusive access to the VIP Club overlooking the waterfalls, access to VIP Parking, and so much more.
Our VIP Season Memberships sold quickly, we added more!
JUST ADDED: 200 Level Club Seats
Contact us today and see how you can create the ultimate concert experience for your company, family and friends.
Memorable Concert Experiences
The world-class boutique amphitheater will have room for up to 7,500 concert attendees and a spacious 1½ acre plaza area for gathering, dining, and merchandise.
On concert nights, there will be a fabulous variety of Elevated Southern food options including pre-concert dinners in front of the waterfall, concessions featuring the best of house made and local choices, and grab-and-go quick serve options.
The amphitheater will have seats for everyone – stadium-style flip down seats closest to the stage, bench seating with backs in the next section and bench seating without backs in the third section. There will be 69 VIP Club seats in Section 1, 24 VIP Boxes across the middle of the amphitheater, 160 VIP Club seats at front of Section 2, plus 18 Cliff-side Suites elevated and overlooking the stage. All with an amazing view of your favorite performers.
The facility will feature state of the art sound, event lighting and large screen image amplification in a natural outdoor setting.
Easy highway drive less than 30 minutes from downtown Nashville, in Thompson's Station at the southern border of Franklin. There is abundant onsite parking.
"We envision this venue hosting some of the most popular touring groups coming to Nashville," says Brian Traeger, President of Live Nation Tennessee. "The spectacular natural backdrop, alongside modern-day amenities the space will offer are going to create a phenomenal experience for both artists and fans."
"At FirstBank Amphitheater we're focused on delivering memorable concert experiences which also include great food, comfortable seating, and convenient parking in a natural and inspiring outdoor setting ideal for enjoying a night of music and fun with friends," said Rick McEachern, Owner at Graystone Quarry and General Manager at FirstBank Amphitheater. "And we're delighted to have Live Nation's event expertise and talent roster to bring this new venue to life."

Limited sponsorship opportunities remain. Email [email protected] for details.