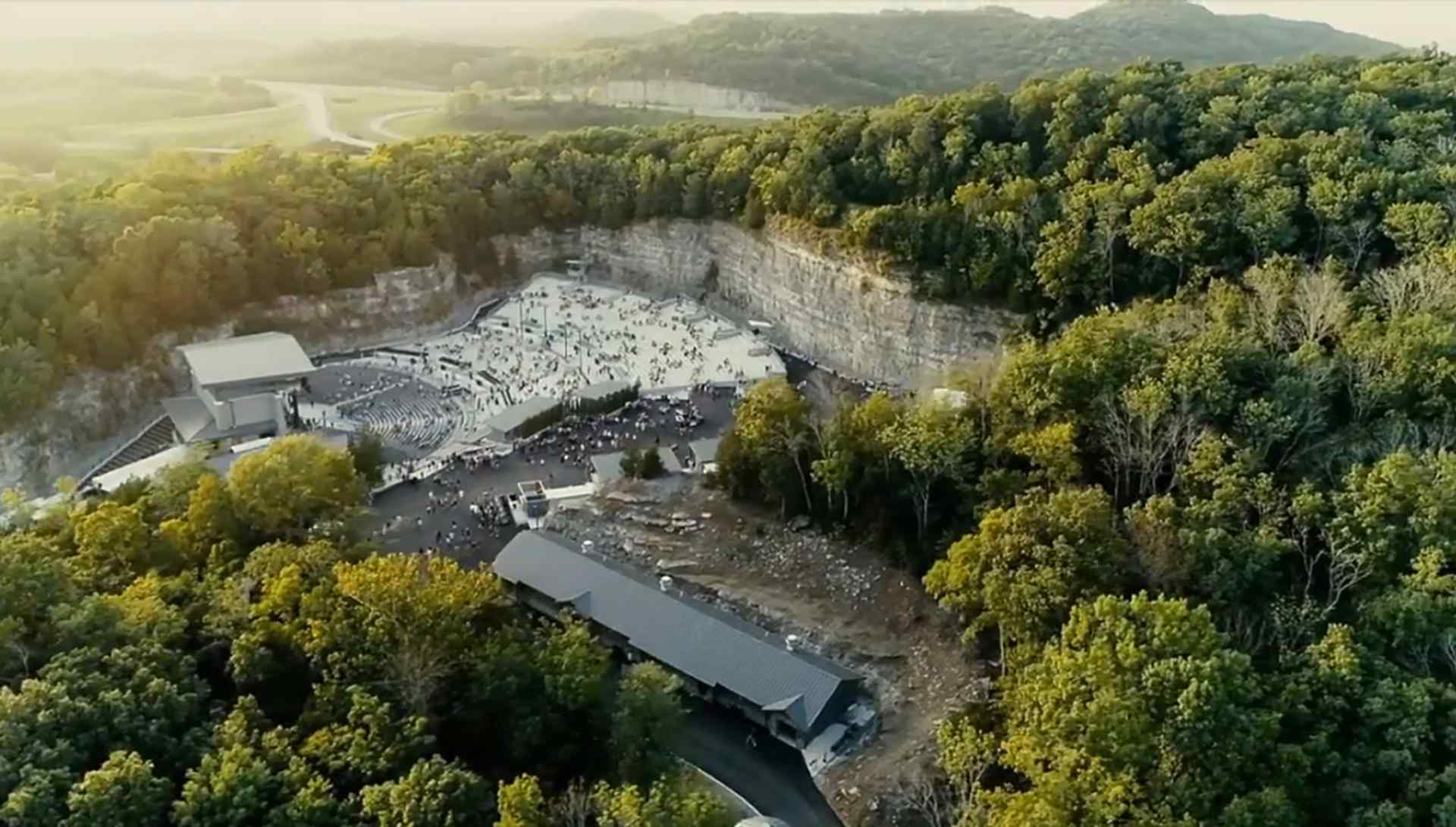 THE PREMIER ENTERTAINMENT
EXPERIENCE SOUTH OF NASHVILLE
Introducing FirstBank Amphitheater, a world-class boutique amphitheater nestled within a beautiful, wooded, natural stone and park-like setting. Located at the Graystone Quarry in Thompson's Station at the southern border of Franklin, Tennessee.
This is one of the most unique venues you'll find anywhere. Although located just off three of the busiest highways South of Nashville, this is no city venue.
This venue is located at the back of 140 acres with natural landscape features and in a reclaimed rock quarry rich in local history. From all nearby roads you won't see an amphitheater – what you will see are abundant green spaces including ponds, trees, fields, and wildlife – essentially all the natural beauty of outdoor Tennessee.
You'll find the amphitheater lovingly and carefully placed within the natural landscape including the parking fields and meadows, the surrounding forest trees, and the lazy path that rises and leads you back into the rock quarry. In this natural space, wildlife including deer, coyote, groundhogs, turkey, herons, fox, raccoon, fish, and the occasional bald eagle still enjoy the quarry when no one is here.
Spending time in nature means being prepared to walk a little and wear comfortable clothes (leave the fancy shoes at home). When you get here, you'll be directed to park your car in the meadow grass parking fields. When you enter the main gates, the rest of your walk will be on paved surfaces and even though we've made the ¼ mile walk that rises into the quarry as easy and accessible as possible it can still feel like a long walk for some patrons.
Even though you can't park right next to the front door we hope you'll agree that the natural beauty of the place makes the walk an enjoyable journey.
Upcoming Events
Memorable Concert Experiences
The world-class boutique amphitheater has room for up to 7,500 concert attendees and a spacious 1½ acre plaza area for gathering, dining, and merchandise.
On concert nights there are fabulous variety of Elevated Southern food options featuring the best of house made and local choices, and grab-and-go quick serve options.
The amphitheater has seats for everyone – stadium-style flip down seats closest to the stage, bench seating with backs in the next section and bench seating without backs in the third section. There are 69 VIP Club seats in Section 1, 24 VIP Boxes across the middle of the amphitheater, 160 VIP Club seats at front of Section 2, plus 18 Cliff-side Suites elevated and overlooking the stage. All with an amazing view of your favorite performers.
Some concerts have standing pits near the stage. Please confirm when buying your tickets.
The facility features state of the art sound, event lighting and large screen image amplification in a natural outdoor setting.
Easy highway drive less than 30 minutes from downtown Nashville, in Thompson's Station at the southern border of Franklin. There is abundant onsite parking.
"At FirstBank Amphitheater we're focused on delivering memorable concert experiences which also include great food, comfortable seating, and convenient parking in a natural and inspiring outdoor setting ideal for enjoying a night of music and fun with friends," said Rick McEachern, Owner at Graystone Quarry and General Manager at FirstBank Amphitheater. "And we're delighted to have Live Nation's event expertise and talent roster to bring this new venue to life."
Things To Know:
We are an exclusive Ticketmaster venue. Should you purchase tickets from a third party ticket agency, you're taking a risk. Ticketmaster's purchase policy may be found here.
BAGS: To reduce staff contact with your belongings and for faster entry, WE WILL ALLOW: Clear plastic, vinyl or PVC tote bags no larger than 12" x 6" x 12" AND/OR Small clutch bags (4.5" x 6.5") – these small clutch bags do not need to be clear. We have clear bags available for sale onsite, as well as a bag check to check items.
We're cashless. All points of sale, including Merch, will accept debit & credit cards only.
Your phone is your ticket. Make sure you have downloaded your ticket into your mobile wallet and transferred them to friends in the Ticketmaster or Live Nation Apps.
Parking in the Main Lot is included with your ticket price.
We have a limited smoking section located BEYOND the men's restroom building. EVERYWHERE ELSE IS NO SMOKING.
Our Lost & Found is located in the Box Office building. We will hold any lost items onsite for up to 30 days from the show date.
Do your part. Please don't come if you're not feeling well! There will be other shows soon.